Products that will keep you looking your best.
We carry products from the following companies. Please ask us about these and how they can help you.
Skinceuticals™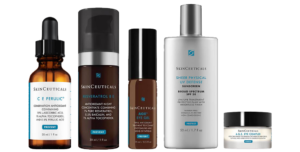 SkinCeuticals antioxidant serums are clinically proven to improve skin health and the appearance of fine lines and wrinkles while also brightening the skin's complexion. Click read more to see what products were carry.
show more
Glycolic Renewal Cleanser: A high-concentration, soft-foaming gel cleanser designed to effectively exfoliate skin.
Phloretin CF: A patented daytime vitamin c antioxidant face serum that delivers advanced environmental protection and diminishes the appearance of fine lines and discoloration.
Discoloration Defense: Daily dark spot corrector targets visible skin discoloration for brighter, more even-looking skin.
Glycolic 10-Renewal Overnight: Nighttime glycolic acid cream delivers a true 10% glycolic acid value to promote cellular turnover for healthy, glowing skin.
LHA Toner: Glycolic acid toner to help get rid of clogged pores and remove surface dead skin cells with lipo-hydroxy acid.
Retinol 0.5: A concentrated night cream with pure retinol improves the appearance of visible signs of aging and pores while minimizing breakouts.
Physical Matte SPF 50: A broad spectrum 100% physical tinted sunscreen with an oil-absorbing base that leaves a long-lasting matte finish.
Physical Fusion UV Defense SPF 50: A tinted sunscreen fluid with 100% mineral filters provides broad spectrum UVA/UVB protection, while promoting natural radiance and a more even skin tone.
Triple Lipid Restore: A patented anti-aging cream to refill cellular lipids and nourish dry skin.
C E Ferulic® with 15% L-Ascorbic Acid: A patented daytime vitamin C serum that delivers advanced environmental protection and improves the appearance of fine lines and wrinkles, loss of firmness, and brightens skin's complexion.
LHA Cleansing Gel: Exfoliating gel cleanser decongests pores, smoothes skin texture, and brightens skin for acne prone skin
A.G.E. Interrupter: High-concentration anti-wrinkle cream formulated to improve the visible signs of aging caused by advanced glycation end-products (A.G.E.).
Hydrating B5 Gel: Hydrating gel with hyaluronic acid. An oil free hydrating serum replenishes moisture and restores radiance for a smoother complexion
A.G.E. Eye Complex For Dark Circles: An anti-wrinkle eye cream to fight the appearance of crow's feet, dark circles, and puffiness.
Elta™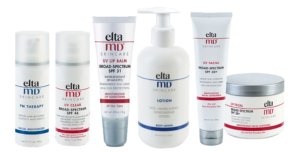 EltaMD provides dermatologist skin care products for every skin type and lifestyle . Our products include sunscreen, cleansers, moisturizers, and more. Click read more to see what products were carry.
show more
UV Sport Broad Spectrum SPF 50: This unique formula doesn't rinse off in water or drip and itch when you start sweating. The sunscreen can be applied to wet or dry skin. The product is ideal for swimmers, runners, golfers, skiers and is suitable for all outdoor activities. UV Sport is also suitable for children.
UV Clear Broad-Spectrum SPF 46: Helps calm and protect sensitive skin types prone to breakouts, rosacea and discoloration. It contains niacinamide (vitamin B3), hyaluronic acid and lactic acid, ingredients that promote the appearance of healthy-looking skin. Very lightweight and silky, it may be worn with makeup or alone.
UV Lotion Broad Spectrum SPF 30: Intended for everyday use, this cream protects your skin from unwanted sun damage with its combination of 7.5% Oxtinoxate and 7% zinc oxide. The high-efficiency airless pump increases the ease of use, while the light, fluffy moisturizing base sooths and spreads over your entire body evenly.
EltaMD UV Elements:
is a 100% physical sunscreen in a tinted, moisturizing base. It is gentle for even the most sensitive skin types, including post-procedure skin.
EltaMD AM Therapy: Moisturizes while it smoothes skin texture and evens skin color and tone.  This lightweight moisturizer stimulates the skin's natural water system to moisturize without oil or heavy emollients. Hyaluronic acid helps increase moisture absorption and retention.
EltaMD Foaming Facial Cleanser: A gentle enzyme and amino acid blend loosens makeup, oil and other impurities on the skin and in the pores. The thick, rich foam gently cleanses leaving your skin feeling clean and balanced.
EltaMD UV Lip Balm: Contains 5% Hydromanil™ for immediate and long-term moisturization. Powerful UV protection and a super hydrating power make EltaMD UV Lip Balm the ideal protector for all skin types and lifestyles.
Latisse Eyelash Treatment
LATISSE® is an FDA-approved treatment to grow eyelashes for people with inadequate or not enough lashes. LATISSE® solution is a once-nightly treatment you apply topically to the base of your upper eyelashes, as instructed by your doctor. LATISSE® solution works gradually and remarkably with full results at week 16.