Miranda Eaton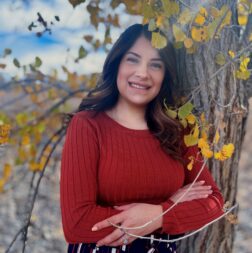 Miranda was born and raised in New Mexico.  She attended the University of Phoenix and completed her undergraduate program receiving a degree in Science in Healthcare Administration.  Miranda continued her education, still attending the University of Phoenix, where she graduated with honors; Summa Cum Laude, and was awarded on the Dean's list, receiving her Master's in Business.
Miranda's experience has been in hospital physician practices, Human Resources, financial operations, and has over 10 years of healthcare experience.  As a former employee of the Lovelace Hospitalist Program, where she's spent much of her career, assisting in the development of the program from the start. Miranda played a few roles where she went from Customer Service Coordinator, Administrative Assistant, to Manager, advancing in her career.  Her mission is to help patients by delivering the best quality care and provide human services to the needs of the multicultural communities of New Mexico.
In her free time, she enjoys being outdoors, boating at the lake, camping, and hunting in the fall.
She is excited to be a part of the Dermatology of New Mexico team where she can add another comprehensive and essential specialty to her background and continue to grow and expand her profession.